Comedy • Improvisation
Stand-Up • Musical Theater • Acting • On Camera
Voice • Modeling • Imaging
SINCE 2000
Libertyville - Highland Park - Round Lake Beach
Improv Playhouse House Teams
Saturday Nights
7:30p Family Friendly
9:00p Adult Friendly
BYOB
Improv Playhouse's own ensemble presents new improvised comedy performances every Saturday night!
For tickets head to groupon or call 847.968.4529 / cash only at the door
Groupon Advance: $10.00 • At the Door: $20.00 • Students: $5.00
Improv Playhouse Theater - 735 N. Milwaukee Avenue, Libertyville, IL
For group rates on parties larger than 15, a deposit is required to hold your space.
______________________________________________________________________
First Friday Funnies
Friday, February 3rd
8:00p
BYOB
Stand-Up comedy the FIRST FRIDAY of every month. February's lineup of comics:
TO BE ANNOUNCED
For tickets head to groupon or call 847.968.4529 / cash only at the door
Groupon Advance: $10.00 • At the Door: $20.00 • Students: $5.00
Improv Playhouse Theater - 735 N. Milwaukee Avenue, Libertyville, IL
______________________________________________________________________
at The Village Tavern in Long Grove
LIVE comedy the Second Thursday of every month at the Village Tavern.
FOOD, DRINK, AND FUNNIES!
January's lineup of comics TBA
$10.00 at the door
The Village Tavern • 135 Old McHenry Rd, Long Grove, IL
_____________________________________________________________________
A Valentine's Murder Mystery Dinner
Couples that solve murders together stay together.
February 11, 2017
Dinner 7pm
Interactive Performance 8pm
Love is in the air, death is in the room. This Valentine's Day, join us for a night of dinner, drinks…and MURDER.
An all-inclusive night of fun and entertainment to share with a loved one. Tickets include a full Italian dinner, champagne toast and an edge-of-your seat interactive murder mystery experience. Cash bar available.
$50.00 per person • Click Here for Tickets
Presented by Improv Playhouse At Round Lake Beach Cultural & Civic Center Black Box Theater
2007 Civic Center Way, Round Lake Beach, IL
Register for Fall Classes and Productions
for all Ages
Now open for Winter Sessions
Click HERE for Youth classes and programs.
Click HERE for Adult Classes.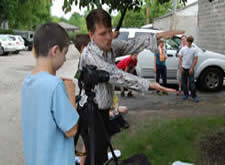 Whether you're interested in classes for adults or children, Improv Playhouse is your home for creative fun and artistic development. Improv classes, musical theatre productions, stand-up comedy classes, and more. Get involved today. Fall, Winter, Spring, and Summer, each session thrives on community involvement. Call the office today to find our more: 847-968-4529.
Theatre for Young Audiences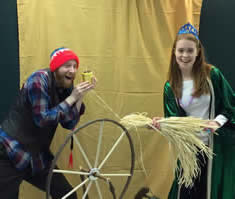 See Little Red Riding Hood on Feb, 11, 2017 11:00 AM!
Purchase Smilin' Second Saturdays tickets!
Click here for more info about travelling programming!
Schools, Libraries, Daycares, and Park Districts are talking about the incredible work TYA is doing to engage students of all ages in literature. This year's THE DIARY OF ANNE FRANK connects with many school student's reading lists and is a must-see. Click HERE for more information about booking a performance for your group or call us 847.968.4529
Contact us: improvplayhousetya@gmail.com
Entertainment
Parties, Weddings, and more
BOOK YOUR PARTY OR SUMMER EVENT WITH OUR DJ DIVISION... BLAST! ENTERTAINMENT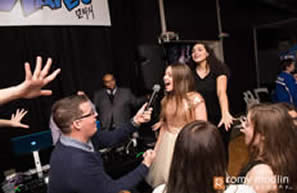 Our BLAST! Entertainment DJ and Talent division can spice up your Bar/Bat Mitzvah, Wedding, School Dance, Birthday party, bachelor/bachelorette event, singles group, or corporate event. Book our DJs/MCs and party motivators for your special partyand add on our photo booth packages, caricaturists and games specialists. Book our improv comedians for an "Whose Line..." style show or a Murder Mystery for your team build event. You'll have a BLAST! with our cast!
Click HERE for more information about private entertainment Or call us 847.968.4529
Team Building
IP- PRIMED (c)2015
Positive Reinforcement for Implementing Maximum Employee Development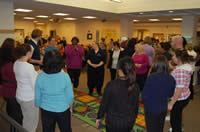 Does your business need inspiration for creative ideas? Do you need assistance incorporating humor in the workplace to increase efficiency? Improv Playhouse can tailor-make a workshop to meet your needs. From major corporations to small businesses, Improv Playhouse has assisted all kinds of companies to work together effectively.
Click HERE for more information on team building resources or call us 847.968.4529
Contact Us
Contact Us
office-847.968.4529
fax-847.968.4530info@improvplayhouse.com
Office/Studio116 W. Lake, Libertyville, Illinois 60048 • 847.968.4529 • 847.968.4530 fax
Black Main Stage 735 N. Milwaukee, Libertyville, Illinois 60048North Shore Training Studios(The Highland Park Community House: Lower Level, Front or Rear Entrance) 1991 Sheridan Road, Highland Park, Illinois
Interested in Improv Playhouse producing your play? Click here for a play proposal form.

Calendar Of Events
1
2
3
4
5

6

First Friday Funnies

8:00pm

7

Improv Comedy

7:30 (Family)

9:00 (Adult)

8
9
10
11

12

Thecond (2nd) Thursdays

At the Village Tavern

8:00pm

13

14

Improv Comedy

7:30 (Family)

9:00 (Adult)

15

16
17
18
19

20

21

Improv Comedy

7:30 (Family)

9:00 (Adult)

22
23
24
25
26
27

28

Improv Comedy

7:30 (Family)

9:00 (Adult)

29
30
31
More About iP:
Improv Playhouse is a professional theatre and entertainment organization the scope of which includes a full-service acting school specializing in comprehensive improv - comedy and acting classes for adults and youth. Divisions of Improv Playhouse include Corporate Team Building, Business and Private Entertainment, Talent Management, Performing Arts Camps and Community Outreach and Education (IP-COE / nfp).
Many adherents to our training philosophy evolve into professional performers on stage in the improvisation, television and film industries. The Adult and Youth improvisation program is all-inclusive and thorough in methodology, formation and curricula catapulting its students to the highest levels of development. Adult improv shows and dozens of youth productions are performed throughout the year immersing actors in opportunities which include focused dramatic training and musical theatre. Each adult or young actor, if desired, is given personal attention from their first acting class, warm up, through the audition process and final performances. One facet of Improv Playhouse's core philosophy is to educate and entertain audiences and students of all ages, demographics and locations; as well as to bring instruction and guidance to emerging improvisational artists and ensembles; by focusing on and about modern improvisational theatre, a Chicago-born and bred art form.
© 2009-2016 the improv playhouse •
No reproduction of this website may be duplicated without the expressed written consent of improv playhouse• site problems?