The Most Comprehensive Performing Arts and Comedy Training Center
in the heart of Lake County, just north of Chicago.
Improv Playhouse is also your home for Live Performances, Team Building events
and Party Rentals!
Libertyville & Highland Park
Improvisation • Comedy • Stand-Up • Musical Theater
SINCE 2000
office-847.968.4529 fax-847.968.4530
info@improvplayhouse.com
Live Entertainment on the iP Main Stage
735 North Milwaukee Avenue
Libertyville
Our Next Comedy Performances!
COMING Friday, August 15
In their Final Performance of the Summer
The Irrefutable IP College Comedy Team
ALMA MUDDER
8:00pm for $8.00
(IP students $5.00)
COMING Saturday, August 16
The Indefatigueable
IP'S Newest House Team
BATTLEFIELD SMURF
7:30pm
Family Friendly Improv Comedy
9:00pm
(Mature Audiences)
More Comedy...featuring some of the funniest regional talent !
"tight, taught, fast paced intelligent improv comedy"
"a veritable feast of funny"
For Tickets Give us a Call:
$12 Adults $8 Students $5 Current IP Students
Group Rates Available Call the Box Office
BOOK YOUR PRIVATE GROUP FOR CUSTOM or SEMI-CUSTOM SHOW!
Ask us about the hilarious, customized IP party game...
It's a Day in YOUR LIfe!
Birthday Parties, Bachelor/Bachelorette Events, Singles Groups and more!
We recreate the classics from the golden age of radio...live on stage!
SOME OF OUR PREVIOUS PRODUCTIONS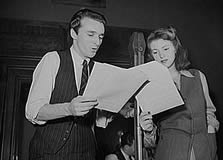 The Maltese Falcon
Dracula
War of the Worlds
Frankenstein
Fibber McGee and Molly
A Christmas Carol
It's a Wonderful Life
Gunsmoke & The Lone Ranger
Superman
Miracle on 34th Street
What people are saying...
"Emotional."
"Captures the spirit of the story in a really unique way."
"Exceptional entertainment and acting...real pros."
"The sound effects were absolutely awesome."
"We'll be back and back again."
"This was more visual than seeing a play because you use your imagination"
"While you watch the actors acting, you 'see' the story unfold in your mind's-eye"
"Just shut yours eyes and listen...amazing live theater."
"I brought my grand children...they just loved it."
"This was short, sweet...about an hour long...perfect for families.