Join Improv Playhouse at the Round Lake Beach Cultural & Civic Center for a fun night featuring Chicago comedians! Hosted by Jayson Acevedo live inside the Meijer Black Box Theater
Friday, March 9, 2018 at 8:00pm
18+ ONLY
Featuring the talents of:
Jayson Acevado
Jaime De Leon
Oscar Carvajal
Chris Trani

$10 Adults| $8 for students (With VALID ID)
Cash Bar. All performers are bilingual
__________________________________________________________________________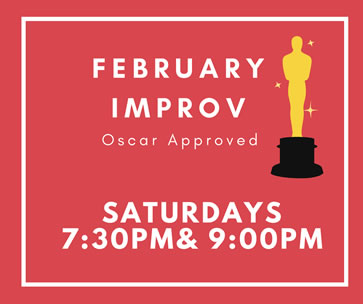 Improv Playhouse House Teams
Saturday Nights
7:30p Family Friendly
9:00p Adult Friendly
BYOB ($5 Corking Fee)
Improv Playhouse's own ensemble presents new improvised comedy performances every Saturday night!
RIGHT NOW, for part of February, all performances have a special Hollywood theme. See what happens when celebrities are late for the red carpet, or see your favorite cinema classic performed in under two minutes.
Please note that on 2/24, we will have guest improvisers at our 9:00pm show
FOR TICKETS head to GROUPON (click here)or call 847.968.4529
Groupon Advance: $10.00 • At the Door: $20.00 • Students: $5.00
cash only at the door
Improv Playhouse Theater - 735 N. Milwaukee Avenue, Libertyville, IL
Please call the Friday before our shows if you require reservations
For reservations on parties larger than 15, a deposit is required to hold your space.
*Please print your groupon prior to coming to the performance
__________________________________________________________________________
First Friday Funnies
Friday March 2nd, 2018
8:00p
BYOB ($5 Corking Fee)
Stand-Up comedy the FIRST FRIDAY of every month. March's lineup of comics:
Kenny Metroff
Ellen Wesley
Oscar Carvajal
Jessica Besser Rosenberg
Lauren Hooberman
FOR TICKETS head to GROUPON (click here) or call 847.968.4529
Groupon Advance: $10.00 • At the Door: $20.00 • Students: $5.00
cash only at the door
Improv Playhouse Theater - 735 N. Milwaukee Avenue, Libertyville, IL