Improv Playhouse
YOUTH COMMUNITY THEATER
PRESENT
Winter/Spring
2021 IN-PERSON Classes
We are your child's ESSENTIAL arts community.
For those families looking for alternate options, Virtual and At-Home Options will be coming your way.
MASK POLICY
We trust we can continue to work together to mitigate the spread of any sickness in our community and out of love and concern for all of our families we want to communicate this reminder: Our space abides by protocols as suggested by CDC guidance. We respect your choices outside of the Improv Playhouse. Whether or whether not you choose to require a mask to be worn by your child, we ask that your child wear their mask upon arrival as they enter our spaces, during rehearsals and while they interact with our students as they await pick up. We are also recommending hand-washing during breaks. During breaks they may lift their masks to consume their snacks from our canteen. We want to provide a safe space for all, including our faculty, and are looking forward to the impending inoculations and protection from the virus. It is a privilege and special gift for our community to meet as they do. We all want to do our part to reflect a responsible, courteous and respectful environment in which our students may all thrive.
IMPROV, MUSICALS, STAND-UP COMEDY
PLAYS, FILM MAKING AND ON CAMERA ACTING
Improv Playhouse production subject matter is adjusted for the appropriate age group.
Improv Playhouse has at its focus the personal integrity of its young performers and will not produce inappropriate material, that which is exclusionary and/or demeaning, or that which compromises the developmental focus of its community of young performers
SCROLL DOWN TO SEE ALL THE CLASSES
Mail: 116 W. Lake Street

Email: info@improvplayhouse.com

Fax: 847.968.4530

Phone: 847.968.4529

Lake Street Studio: 116 W Lake St, Libertyville

Black Box: 735 Milwaukee Ave, Libertyville
IMPROV CLASSES
ACTIVE Improv Comedy Intensives
Achieving Comedy Through Improvisation Values Education (c 2017)
LARP LEVEL ONE




Beg/Intermediate

Mid-term registration accepted

A blast for all the students, but more than learning the forms of "Whose line…" our students participate in the games of theater that nurture skills in character development, spontaneity, giving and taking focus and ensemble (team-work) building. Beginning through Advanced Sections for Junior High and High School.

Join Teen and Jr. Improv coach Kenzie Smith and IP fantasy role play aficionados as they custom-build an adventuring quest to unleash your inner storyteller. Build a character and create your world. Sharpen your improv skills with games and exercises, all while you battle to preserve the forces of good! Clean, family-friendly dungeons and dragons themes provide a ridiculous backdrop for quirky characters and out-of-this world improvisation!

LEVEL 5: Digital "Live" Action Role Play Improvisation

ALL CLASSES ONLINE!

4th- 7th: 5:30 - 7:30pm

Wednesdays

2/10-3/31

$295/Term


Returning Students ONLY: Level 4!
The adventure continues at the Academy of Bardic Arts and Banter! We will be going more in depth with the characters you created last session, continuing to explore character development and teamwork through immersion and imagination. You also will begin to take on some leadership in storytelling and worldbuilding by traveling to the various hometowns of each character during your questing.

0000000000000000000000000

))))))))))))))))))))))))))))))))))))))))))))))))))))))))))))))

LEVEL 1: Digital "Live" Action Role Play Improvisation

ALL CLASSES ONLINE!

7th-9th: 7:30pm-9:30pm

Thursdays

2/18-4/8

$295/Term

New and Returning Digital LARP Students: Intro to LARP This is an extreme long-form improv class geared towards character development and discovery through play. It will be a blend of traditional improv games, character building exercises, LARPing, and tabletop RPGs (like Dungeons & Dragons) where we collectively tell a story, primarily through character dialogue, story narration, and occasionally, the dice. This adventure will be set in a sci-fi-fantasy world based in Greek Mythology. Each of you have been called to come together as the demigod representatives of your parents' respective planets to set out on your prophesied Hero's Quest to defeat monsters, chart the unknown, and bring peace and glory to our solar system.



Teen Improv Comedy

IN-PERSON LIBERTYVILLE

7th - 12th

7:30 - 9:00pm

Thursdays

2/25 - 4/15

$295/Term

Jr Improv Comedy

IN-PERSON LIBERTYVILLE

4th- 7th

6:00 - 7:30pm

Thursdays

3/18-5/13

$295/Term

Advanced Comedy Teams & Ensembles

Instructor approval, referral

or audition.

Designed to give the intermediate/advanced Junior High, Teen and HS improviser expansive opportunities to develop and demonstrate their improv skills for diverse audiences and events. Students will be challenged by pushing the limits fo conventional games, train in sketch comedy, long form and other performance "tools" of the trade. Junior and Teen team members must be enrolled in classes to retain their position for performances.

Auditions will be held in the Fall and Spring. Tuition will be prorated should ensemble members be accepted during running term. Fall/Winter/Spring terms focus on different Chicago style improv formats. Youth Comedy Team members have gone on to the top performing arts universities, professional schools of improv and pro careers.

Teen Comedy Team

Libertyville

Assessment

(Not Necessary for Returning Students)

Call us for info on assessments and referrals.

SUNDAY 1:00 -3:00PM

$395/Term

2020 -2021 TERMS

Term 1: 10/25 - 12/13

Term 2: 1/17 - 3/14

Term 3: 4/11 - 3/23

JR Comedy Team

Libertyville

Assessment

(Not Necessary for Returning Students)

Call us for info on assessments and referrals.

SUNDAY 3:00- 4:30PM

$395/Term

2020 -2021 TERMS

Term 1: 10/25 - 12/13

Term 2: 1/17 - 3/14

Term 3: 4/11 - 3/23

)))))))))))))))))))))))))))))))))))))))))))
BROADWAY & POPULAR MUSICALS
Grade

Show

Dates

4th - 8th Grade

Step up your performance skills. Let our directors assess your strengths and weaknesses. Advance your training! Showcase last class!

Triple Threat Workshop

Libertyville

IN-PERSON

$395

Libertyville

Black Box Theater

10:00am - 12:00pm

Rehearsals: 3/13-5/22

Showcase: 5/22

Black Box theatre

iiiiiiiiiiiiiiiiiiiiiiiiiiiiiiiiiiiiiiiiiiiiiiiiiiiii

REGISTER NOW000000

1st-3rd

Grade

The first steps of self esteeem and poise often begin on the stage in incremental stages. These classes are for kids who love to perform, who want to develop their musical theater skills or the shy ones who may want to come out of their shell. Age appropriate material is selected for the children who will be guided into solo or ensemble work. We strive that the environment remains nurturing and confidence building! Strengthen skills through exploration of acting technique, storytelling, singing and movement. Our Youth Community Theater component, BROADWAY BOUND, ends with a showcase or mini-junior production performed for family and friends.

Broadway Bound

Libertyville

Aristocats

IN-PERSON

$325




IIIIIIIIIIIIIIIIIIIIIIIIIIIIIIIIIIIIIIIIIIIIIIII

Libertyville

Black Box Theater

Rehearsals TUES/THURS

TUES: 6:00 - 7:30pm

THURS: 6:00 -7:30pm

First Rehearsal: 3/9

Parent/Cast Meeting:TBA

Show: 5/6




4th-7th

Grade

Our Youth Community Theater component, SHOWSTOPPERS, is designed to raise the bar of customized performances that exhibit showmanship,solos, acting, choreography, voice and music theater pieces incorporating developmentally appropriate Broadway shows or films. SHOWSTOPPERS train toward and IP MUSICAL THEATRE PRODUCTION Showstoppers productions are performed on public stages at area high schools or similar spaces.

Showstoppers

Libertyville

Madagascar

IN-PERSON

$425

Libertyville

Black Box Theater

Rehearsals FRI/SAT

Friday 4:00 - 6:00pm

Saturday: 1:00 - 3:00p

First Rehearsal: 3/12

Parent/Cast Meeting: TBA

TBA Show: 5/13-5/15

Set Design and Build Class

10:30am - Noon

1/23-2/13

Price Included in Showstoppers Tuition




7th - 12th Grades

IP ELITE is a repertory ensemble of outstanding teen and high music theater school students from throughout the Lake County region. Members of IP Elite tend to be students who are passionate about musical theater and who wish to improve their performing skills while working with other serious musical theater actors seeking the challenge of developing their craft.

IP Elite

Libertyville

Lion King

IN-PERSON

$425

Libertyville

(7th - 12th)

Blackbox Theatre

Rehearsals SUN/WEDS

SUN: 3:30 - 5:30pm

WEDS: 7:00 -9:00pm

First Rehearsal: 3/17

Parent/Cast Meeting:TBA

Show: 5/21-5/22
NON-MUSICAL PRODUCTIONS
Young Actors Workshop

Acting Conservatory

Winter Drama Class

3rd – 7th Graders

Black Box Theatre

$295

The Lion, the Witch and the Wardrobe

IN-PERSON

Teen Drama Class

$365

Libertyville

NEW TIMES

Rehearsals SUN/MON

SUN: 1:00 - 3:00pm

MON: 6:30 -8:30pm

First Rehearsal: 3/15

Parent/Cast Meeting: TBA

Show: 5/22 - 5/23

Libertyville

REHEARSALS: TBA

This program has been designed to expose the youthful actor to a nurturing professional theatre experience with an emphasis in practical performance methods. From the audition process, to being cast as a player and crew member, to public performances, get ready for an incredible, dramatic journey! Comedies, dramas and developmentally appropriate pieces are chosen for public performances

.

*If you are an 18+ post-high school adult interested in this class, please stand by for more information about online adult classes in the coming days!

Connect with Improv Playhouse's team of writers and dramatic structure gurus to build a 10 minute play from the ground up! Explore the fundamentals of character and plot in virtual scene studies, and match wits in collaborative writing exercises. Participate in staged workshop readings of finished work. Ideal World Goal: present and perform the final products live!
Improv Playhouse's Benchmark's Program:
Click here to see our Rubric based assessments
What do people say about Improv Playhouse?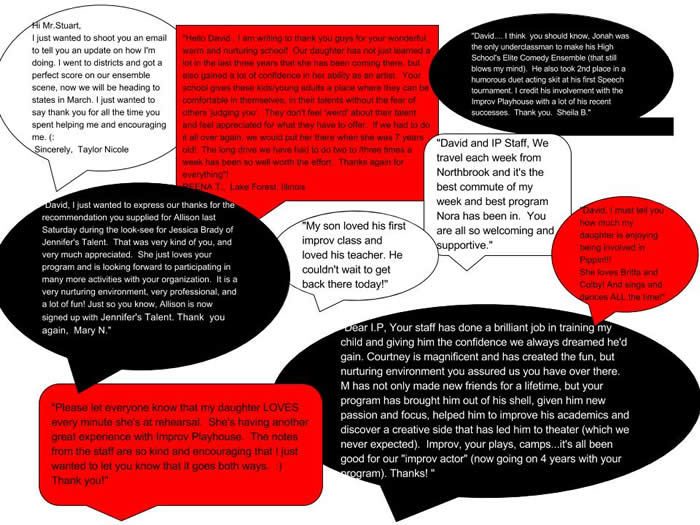 ---
Youth Production & Class Policies
---
CONTACT US
Office/Studio: 116 W. Lake Street, Libertyville, Illinois 60048 • 847.968.4529 • 847.968.4530 fax •
Black Box Space - Theatre: 735 N. Milwaukee Avenue, Libertyville
North Shore Training Space: 1991 Sheridan Road, Highland Park, Illinois 60035
Round Lake Beach Cultural and Civic Center, 2007 Civic Center Way, RLB, Illinois 60073